PVC Decking has superior resistance to moisture, mold, mildew, and weathering.
Composite home decking refers to engineered deck boards. Basically, any deck boards that aren't 100% organic material (like wood). There are two related types of engineered deck boards: capped polymer and capped composite boards.
Both capped composite and capped polymer boards feature proprietary polymer caps — but in the case of capped polymer boards, the core of the board contains NO organic material, like wood flakes. This is what gives it excellent resistance to the elements.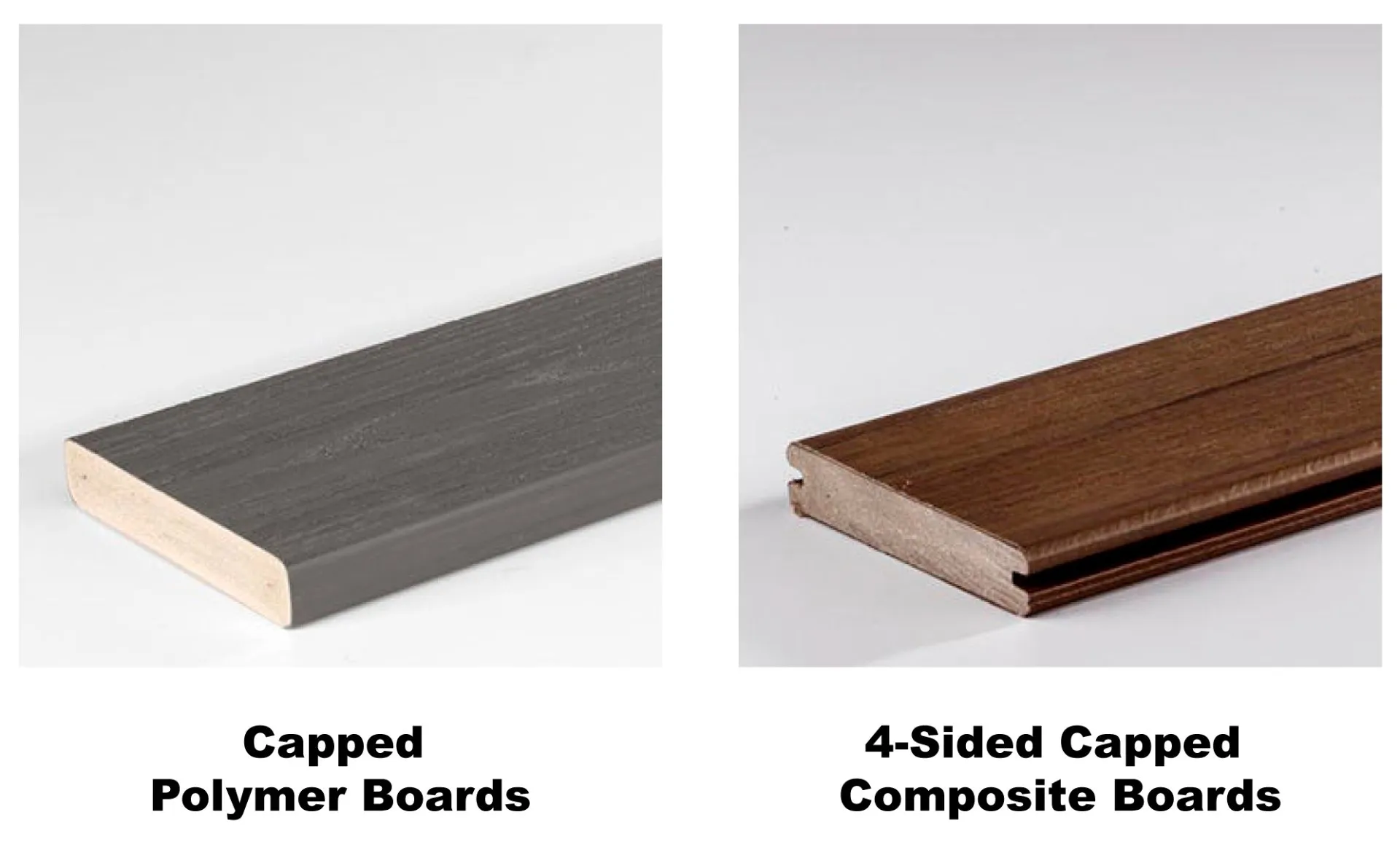 Capped Polymer boards contain no organic material in the core or cap; made from 100% polymers (plastics including polyvinyl chloride or PVC).
4-Sided Capped Composite Boards have a core made from a blend of engineered materials (like recycled plastics, HDPE, etc.) and organic materials (wood) with an engineered cap.
We are proud to partner with AZEK Decking to install permanent solutions for your backyard decking.
These maintenance-free PVC decks will make you feel like an exclusive vacation spot in your own backyard!
Not only will it increase the quality of your outdoor life, but you can also be assured that your family will always be safe with your new AZEK® PVC Decking.
AZEK PVC Decking Styles & Options
Known as the best of the best decking for your home, the capped polymer boards in this collection feature sophisticated, natural colors with a subtle wire-brushed, low-gloss finish for an authentic wood look.
Available in narrow, standard, and wide widths, this "Designer Series" of decking makes it easy to transform your outdoor living space into a masterpiece.
All are backed by the most powerful core and cap technology and industry's best warranties.
Beautiful decking full of gorgeous, warm, and vibrant blended colors, the cathedral or straight wood grain patterns in this collection resembles highly sought-after, rich woods.
Every board in this collection showcases characteristics found in nature while boasting industry-leading warranties and advanced performance technology in the core and cap that keep your home decking looking good for decades to come.
A beautiful home decking solution, capture the essence of nature with the artisanal TimberTech® PRO® Legacy Collection.
These boards feature a complex blend of hues, natural board-to-board color variation, and a hand-scraped texture that offers Old World charm.
Just as every tree found in nature is unique, every deck board in the Legacy Collection is, too, so you can create a one-of-a-kind deck.
Based on beautiful, reclaimed wood, the capped polymer decking in this collection features sophisticated highlights and lowlights that run from end-to-end and board-to-board for completely unique color-blending and one-of-a-kind decks.
Each color boasts a matte finish with a classic cathedral grain complemented by a rustic crosscut. Backed by industry-leading warranties and advanced performance technology in the core and cap, your deck will be gorgeous and durable for decades to come.
Bring character to your outdoor living space with the boldly blended colors in the TimberTech PRO Reserve Collection. Now this is beautiful decking!
Inspired by reclaimed wood, the heavy wire-brushed, low-gloss finish showcases the classic cathedral wood grain pattern on these resilient boards.
Plus, these boards are covered with a 4-sided cap to prevent moisture damage. Make your outdoor living space truly yours with the TimberTech PRO Reserve Collection.
The traditional hues in this collection range from solid to moderately varied to create a timeless look for your outdoor decking.
Plus, the complex, rugged wood grain pattern on this decking is designed to camouflage everyday wear and tear.
Each board is covered on all four sides with a synthetic cap to prevent moisture damage. Go ahead, and design your space with practical, scalloped decking that's the perfect combination of value and performance.
We Service the Entire State of Oklahoma