Vinyl Windows have been around for several decades and were originally designed as an alternative replacement window to wood and aluminum windows.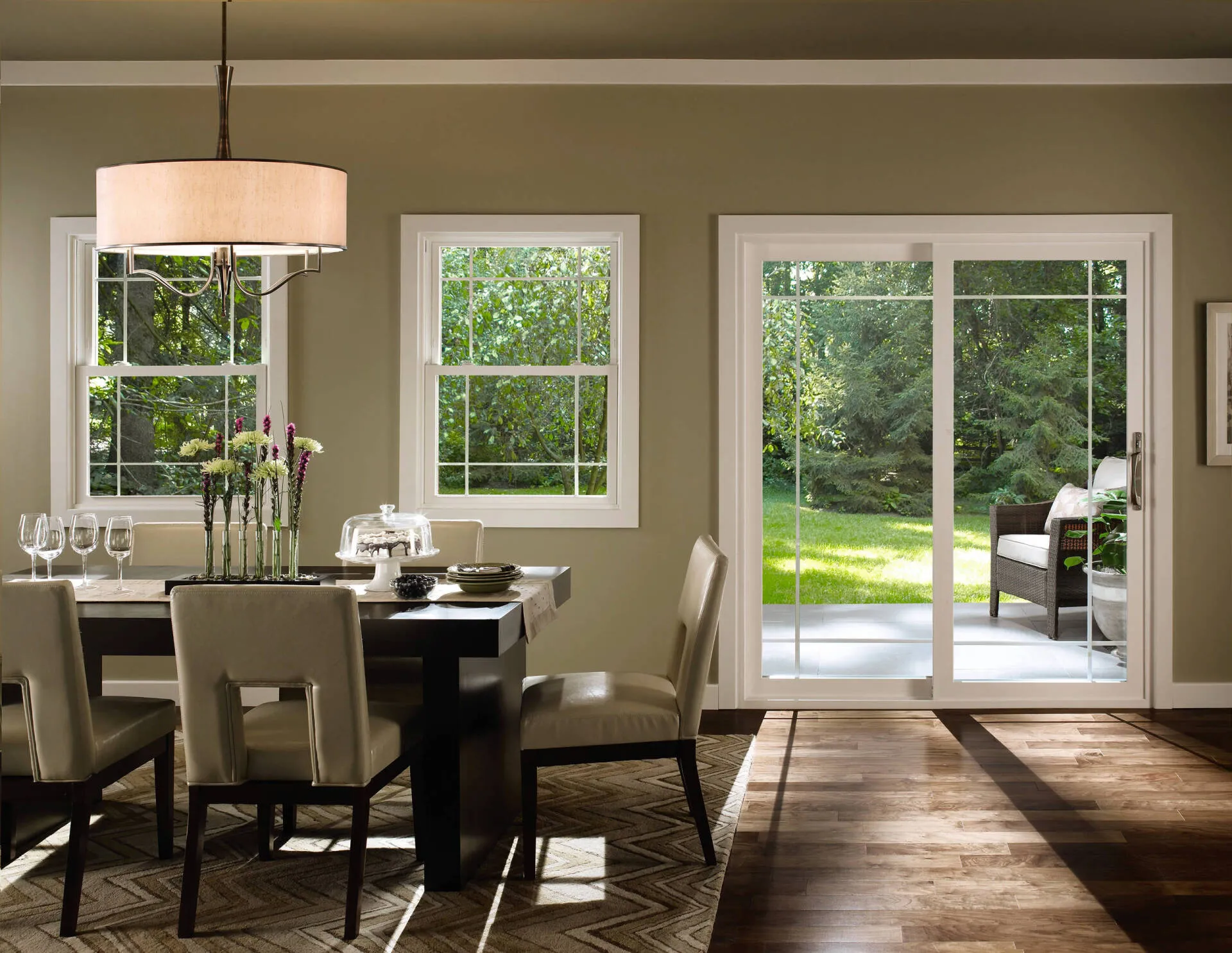 Vinyl replacement windows are one of the best choices you can make for your next home renovation.
They are one of the bestselling materials for home window replacement in Oklahoma and the nation for a number of important reasons.
American Quality Exteriors is dedicated to serving affordable, durable, and energy-efficient vinyl replacement windows for Oklahoma homeowners.
As Oklahoma homeowners, our customers know all too well about high humidity and harsh weather.
The good news is that vinyl replacement windows are specially designed to withstand extreme temperatures, harsh weather conditions, and humidity without getting damaged.
You can count on vinyl replacement windows to last for many years to come because of this outstanding durability.
Improved Energy-Efficiency
Did you know that installing vinyl replacement windows in your home also means that you'll enjoy greater cost savings on your energy bills?
That's thanks to a tight seal feature on the vinyl replacement windows that prevents drafts and air loss.
Modern vinyl replacement windows also utilize the newly-developed Low-E coating that reflects warm solar rays while allowing enough brightness in your room.
Additionally, vinyl replacement windows can prevent the sun's harmful rays from shining on items inside your house and causing them to fade.
These features complement the naturally energy-efficient nature of vinyl and ultimately provide a strong, effective barrier from temperature changes to better insulate your cozy home.
Vinyl replacement windows can stay in optimal conditions for decades with very basic maintenance efforts.
That's because, unlike wood, vinyl replacement windows are moisture-resistant and won't easily warp and become damaged, leading to greater savings in the long run.
This means their color-safe paint won't fade, helping your vinyl replacement window look brand-new and perfectly painted, even after many years.
A Variety of Styles and Colors
Vinyl replacement windows don't just update the energy efficiency of your home, but you can also select a modern frame design to complement your interior or new siding.
That's because vinyl replacement windows are available in a variety of colors and styles, which gives homeowners more options and flexibility to match their personal style.
Wooden windows are a significant investment for your home. Compare that to the price of vinyl, and you'll see that you can easily save money on your home window replacement project.
It just makes sense to ditch the costly windows with an affordable alternative like vinyl replacement windows.
Whether you're looking for durability, energy efficiency, ease of maintenance, esthetic reasons, or cost, vinyl replacement windows are clearly your best way to go.
Vinyl Window Design Options
Want the great look of an original wood replacement window, but fear the maintenance of scraping and painting along with energy loss associated with them?
Vinyl replacement windows have not been considered an elegantly designed window to match the beauty of wood windows until Sunrise patented the Restoration window design.
See the woodgrain and vinyl color combinations available: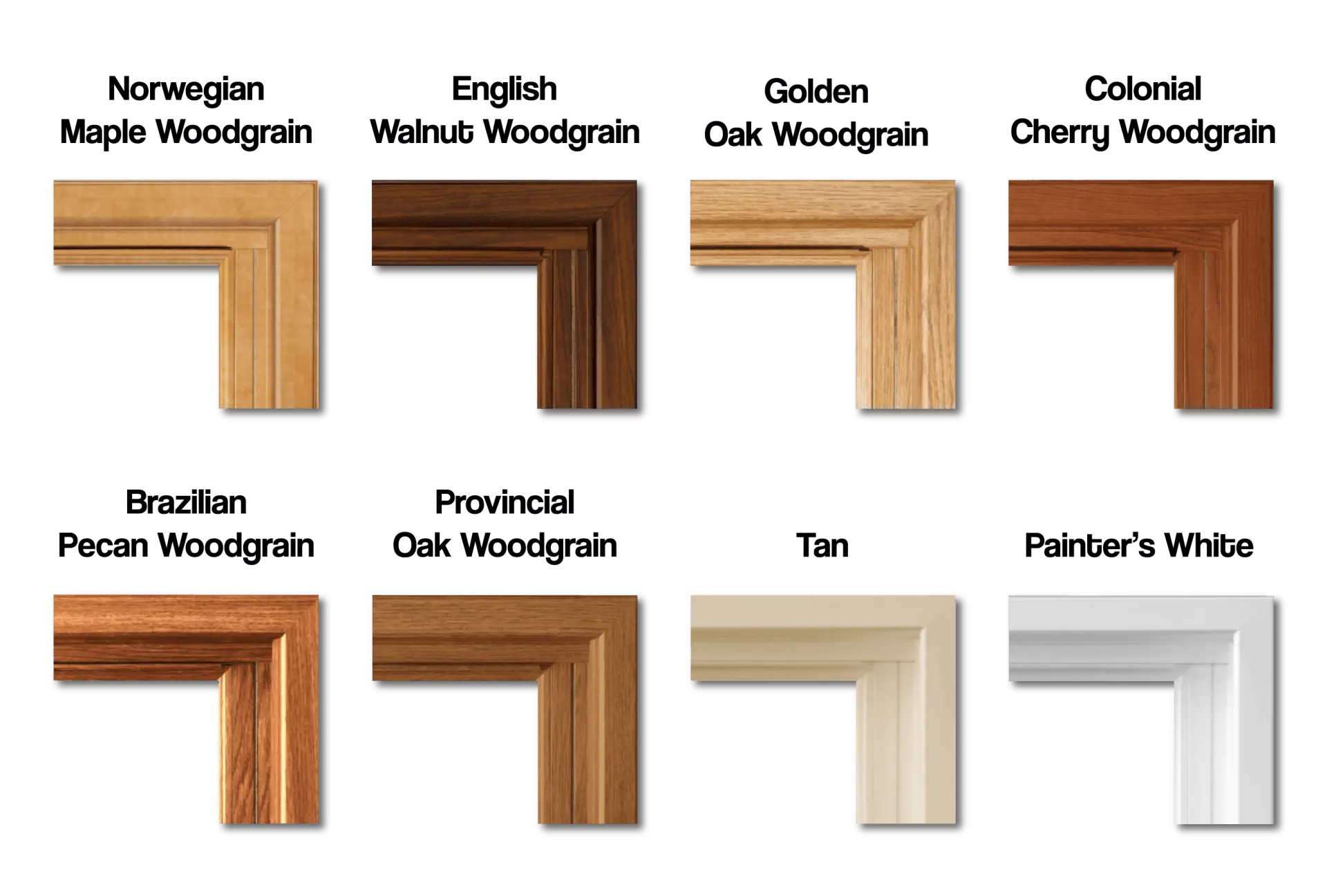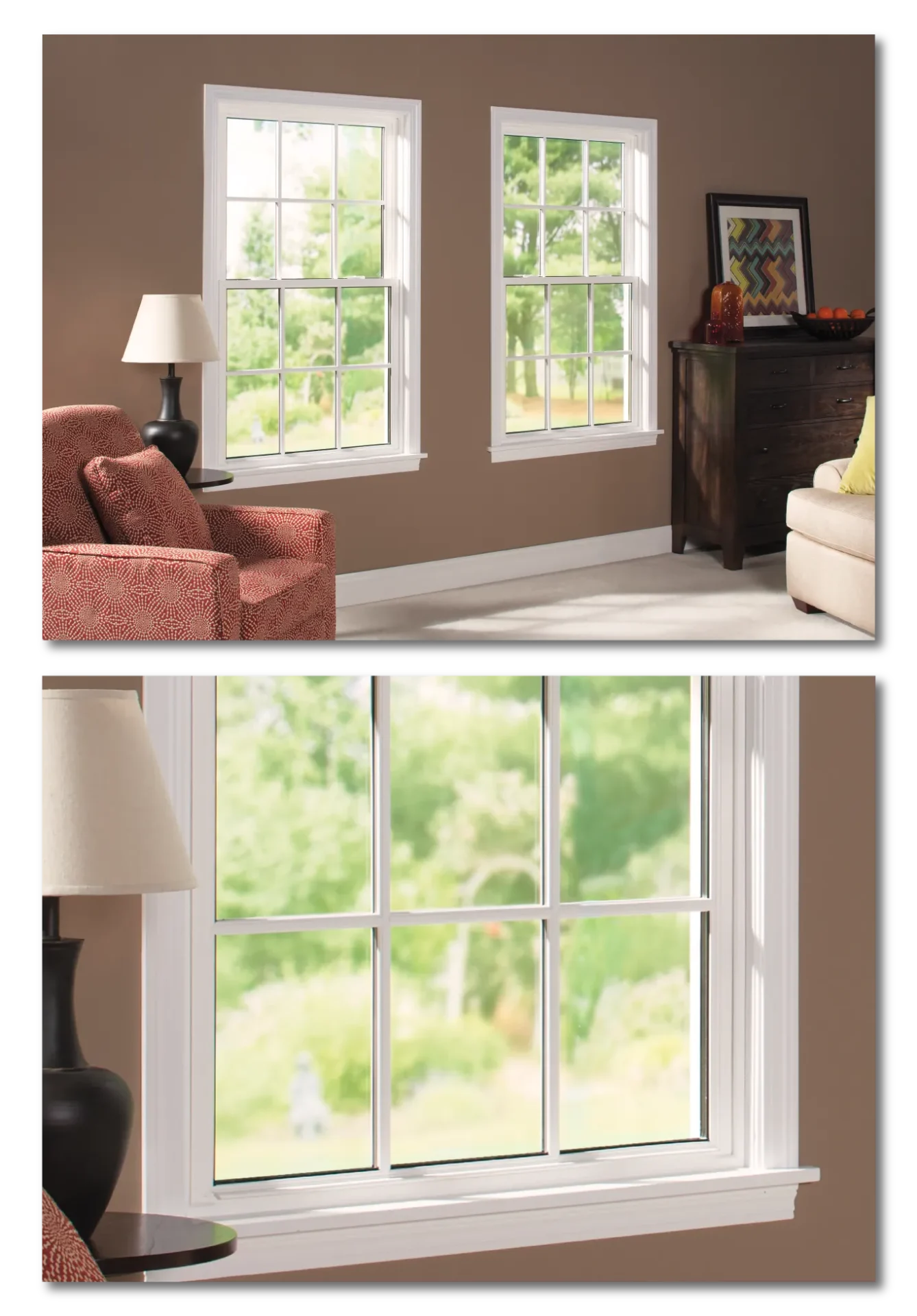 Vinyl windows are virtually maintenance-free.
If you want the look of a wood window, our Restorations® Series can be manufactured with many design options that have the appearance of wood windows.
Restorations® Vinyl Replacement Windows comes with 17 exterior color options and 6 interior woodgrain finishes, and endless custom colors.
Vinyl replacement windows won't corrode and separate like metal or rot and deteriorate like wood.
Vinyl sash and frames are fusion welded together, making the frame airtight and guaranteed to never separate for the lifetime of the home.
Vinyl replacement windows provide decades of smooth, effortless operation.
Our Restorations® Vinyl Replacement Windows come in a variety of styles, including the popular double-hung windows, sliding windows, and awning windows.
How to Tell if You Need New Windows
If your windows are old and inefficient, they could be letting heat seep in and out of your home, driving up heating and cooling costs.
If your windows aren't sufficiently keeping the winter cold out, condensation will occur when indoor moisture hits the cold inside the window surface. Condensation may also accumulate between panes if a window has lost its seal.
Well-designed windows have multiple panes and insulating gas for added efficiency and sound protection. If you're hearing a lot of outside noise, your windows may be poorly sealed or improperly installed.
Windows can shift or accumulate dirt and debris over time, making them difficult to open and close. Today's windows are designed to be extremely easy to open and close.
If your house is well sealed and insulated, and you're still feeling drafts, your windows may be poorly sealed or improperly installed.
If you're in any of these situations, then let us guide you through a new window purchase. Call us today for your FREE QUOTE!
Single-hung windows feature a single movable sash, raised from the bottom for ventilation, while the top stays stationary.
A traditional style, popular double-hung windows, open by raising the bottom sash or lowering the top sash of the window.
Our casement windows are hinged windows that open outward with a rotary crank handle. They open from the side.
This is a window style that opens by sliding the operable sash toward the center of the window.
Both awning and hopper windows are hinged windows that open outward with a rotary crank handle. Awning windows open at the bottom, and hopper windows open from the top.
Picture windows are stationary and cannot be opened. Used as a main feature, providing unobstructed views while allowing a large amount of natural light indoors.
Bay and Bow windows contain three or more windows and project outward. The windows join to form a gentle curve or a "bow" shape. They are typically fixed, and the side windows are operable.
Custom-made geometric shapes are also popular as accent windows. Half-rounds, quarter-rounds, triangles, and other geometric window shapes can complement the architecture of any structure.
All of our replacement windows exceed Energy Star guidelines. Installing ENERGY STAR-certified replacement windows actually lowers energy bills and saves you money. With more efficient replacement windows, you also use less energy. Put an end to cold drafts and overheated spaces. ENERGY STAR-certified replacement windows keep your home's temperature consistently comfortable.
We Service the Entire State of Oklahoma
Our Window Replacement Gallery
We Service the Entire State of Oklahoma